Since 1997, Webster Drilling & Exploration Limited has completed over 1,200 rock anchor projects in New Zealand. In many of the projects the company also conducted the preliminary geotechnical drilling. These projects vary in size from 1 to thousands of anchors with anchor bar sizes varying from 12mm to 100mm+ in boreholes up to 250mm.
The company has a wide variety of rigs for anchor work including hand held, people portable scaffold mount, track mount, excavator mount, plus conventional truck mount for vertical anchors.
To enable work in basements we often utilise remote power packs and have electric powered rigs and silenced generators for in-building or sensitive noise environment situations.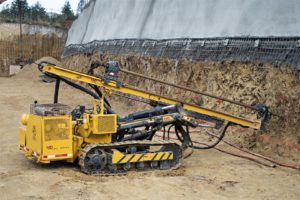 We actively design, build and modify our drilling rigs specifically for anchor installation, aiming to improve efficiently and safe usability. We often run multiple rigs per site to speed production.
Within our extensive range of drilling equipment we have a variety of downhole casing advance systems to facilitate the installation and grouting in difficult ground conditions, we can post-grout anchors to further increase bond capacities. We provide a complete anchor testing service with calibrated equipment up to 3,500kN.
Health and Safety
We have long term experience managing health and safety on drilling projects, with a well developed health and safety management system that has been approved by large international & local clients.
We have a strong history of implementing design improvements to our equipment to reduce and eliminate environmental impact as well as reducing hazards for personnel. We aim to maintain this with the Safety Management System in place and constant monitoring of performance.
Our SMS covers Responsibilities, Policy, Planning, Hazard Management, Training, Reporting, Participation, Emergency Planning & Readiness, Contractor Safety Management, Injury and Rehabilitation Management.
We work pro-actively with our clients and stakeholders to ensure projects are undertaken safely and successfully.
Quality Management
Webster Drilling and Exploration have evolved and developed a comprehensive and fit for purpose quality management system.
This covers compliance with multiple legislation and regulations applicable, as well as systems that are compatible with our operations and our national and international client's requirements. We are conversant with the relative codes and standards related to ground anchoring and have excellent working relationships with many established construction, engineering and consulting firms.
Webster Drilling strives to continuously train and maintain competency of personnel. We have a workforce of staff highly experienced in anchor installation and a wealth of senior experience to draw on.
Our key operational personnel are:
Hayden Webster – Project Manager
22 years in the drilling industry. Extensive experience in drilling, drilling supervision and project management including in many remote and heli-portable operations.
Anchor installation and slope stabilisation including high pressure post grouting – NZ –Wellington
Environmental monitoring drilling – NZ
Seismic drilling – NZ, Austrailia, PNG, Iran
Geotechnical investigation drilling including marine work – NZ, PNG, Fiji, Vanuatu, Samoa, Tonga, St Kitts & Nevis
Hydro investigation permeability packer testing – NZ, Fiji
Extensive mineral exploration wireline coring PQ, HQ, NQ – NZ, Fiji, Australia, PNG
Oil & Gas exploration – NZ, PNG
Oil & Gas drilling – NZ
Michael Ashby – Technical Manager
14 years in the drilling industry in drilling, project & contract management and technical services including many remote operations.
Anchor design, installation including high pressure post grouting and testing including 3D design of reaction frames and fabrication – NZ. Extensive experience managing anchor projects from pricing to completion.
Geotechnical investigation drilling including marine work – NZ, Pacific Islands, Africa.
Geotechnical project management experience in challenging locations such as Mozambique, Cameroon & D.R.Congo.
Seismic drilling – NZ, Australia
Mineral exploration coring – NZ, Australia
Environmental monitoring drilling – NZ, Fiji